---

---

---


---
web•Wiz Online is published fortnightly, usually a fortnight before publication in print in The Waranga News.
Best viewed at 800x600 screen resolution in 16-bit colour using Internet Explorer V5 or later.
© web•Wiz Online 2000, 2001, 2002, 2003
---
| | |
| --- | --- |
| | Our sympathies to those who lost loved ones on September 11. |
web•Wiz Online
Updated 24-Apr-03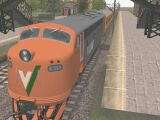 To check updates at web•Wiz in the last few days, click here or scroll down the page.
Daily updates to web•TrainSim line news. Check out the latest news, tips and the best downloads at www.webDotTrainSim.com.
web•Wiz Column
Published 17-Apr-03
webDotWiz must have had a brain parity error when formatting the Waranga News for this issue - anyway, all the sites are here online!
Please note that the web•Wiz site has a new home, at www.webDotWiz.com. From the date of this week's column, all future columns and additional listings in the web•Directory will only be updated at the new site. Remember to add www.webDotWiz.com to your favourites!
• This week's Wiz includes:
Read all this week's Wiz...>>
web•Wiz In-Sites
•

Selected sites for this week:

• All this week's Wizzy sites...>>


What's New at web•Wiz
• (17-Apr-03): Sites added to web•Directory - click here for recent additions.
web•Help | About



•

Need help finding your way around? It's just a click away...>>;



•

web

•

Wiz Online is published fortnightly, on the same day as The Waranga News, and updated regularly as sites are added to the web

•

Directory.



•

Comments? Questions? Contact the webmaster



•

web

•

Wiz Online is best viewed at 800x600 screen resolution in 16-bit colour.



•

© Bernie Halpin, web

•

Wiz Online 2000, 2001, 2002, 2003.



web•Updates
web•Headlines
web•Specials